It's time to recognise the name Miles Murphy.
The MDM Designs owner has created the helmet liveries of Lando Norris, George Russell, Alex Albon, Jake Dennis and more, and works with drivers and teams across the planet including on car liveries, too.
The 30-year-old, originally from Manchester, grew up racing with the aforementioned drivers in karting, which is how he ended up designing for the stars.
"I got very lucky getting a pretty decent list of drivers I worked with at a young age when they were in karts – like George Russell, Lando Norris, Jake Dennis as well as a range of Karting and car teams which essentially got my foot in the door," says Murphy.
"Luckily from there, they must think I have done something right as we still work with them and it kinda expanded the business base from there.
"Initially it was never the plan to go into designing full time – I wanted to be a Design Engineering/Trackside Engineer in motorsport, hence my degree in Motorsport Engineering at Coventry.
"However in December of my final year, I was involved in an accident and missed all my follow up interviews and assessment centres while I recovered.
"So it was either do a masters/repeat the year and try again – or finish the year and give full-time MDM Designs a punt to see how it went.
"Luckily it went pretty well, so instead of looking at data traces and formulas – I colour in pictures, play with rendering scenes and website coding!"
Murphy got into motorsport watching his parents kart and as a Michael Schumacher and then Kimi Raikkonen fan. Now he's on the inside speaking to some racing's biggest names on a weekly basis.
It's a challenging job with helmet designs, special one-offs and last minute requests, but it's rewarding when his designs visit a podium or victory lane.
Given his talent and the drivers he designs for, Podium Life asked Murphy to pick out his five favourite designs, which was admittedly like asking him to choose a favourite child, but he gave it a go anyway.
Lando Norris – F1, Miami 2022
"This is just unique, glad we went for something so simple and yet memorable with Lando and his team.
"We wanted to really stand out and steer away from the typical Miami Vice theme that most would go for – I think we managed to achieve that!
#affiliate link
"Jens at JMD really outdid himself on the paintwork for this, as the helmet even had the texture of basketballs with the 3D look."
Jack Doohan – Formula 2, 2022
"I'm really glad we ended up doing a modern twist on his dad's iconic design," says Murphy, referring to Doohan's father Mick, the legendary motorcycle racer.
"It suited the new models super well – colour scheme worked nicely, the Doohan 'OK Koala' on the back also helped complete the refined classic.
"One of my favourite 'standard' helmets (i.e. not a special edition) ever."
Pato O'Ward – Indy 500, 2022
"Pato wanted to go all out with the theme of McLaren's colours with an Indy 500 special twist so the idea came to use the iconic bricks in the design.
"This ended up becoming a 3D chrome piece, where the bricks were elevated and in chrome – which gelled the two ideas together really well.
"Alongside the Papaya fluro of McLaren and the Indy 500 wreath logos in the background, it looked absolutely stunning when painted and glinting in the sun.
"It definitely wasn't an easy job for his painter Censport, but he did an amazing job bringing it to life!
"He was so close to winning the race as well! Which would have been epic – especially as the tribute design we did for Checo won the Monaco Grand Prix the same day!
"I think Mexico would have had a national holiday winning both of those events!"
Lando Norris – F2, Abu Dhabi 2018
"I regularly come back to this as one of my all time favourites. I know it is Lando's manager's favourite."
"The mainly blue colour scheme, yellow fluo details – ghosted in images of Lando at Carlin from throughout his career and the glitter flake background looked so awesome under the lights.
"Again, JMD killed it on this paint job."
Jake Dennis – Formula Renault 2.0, 2012-2013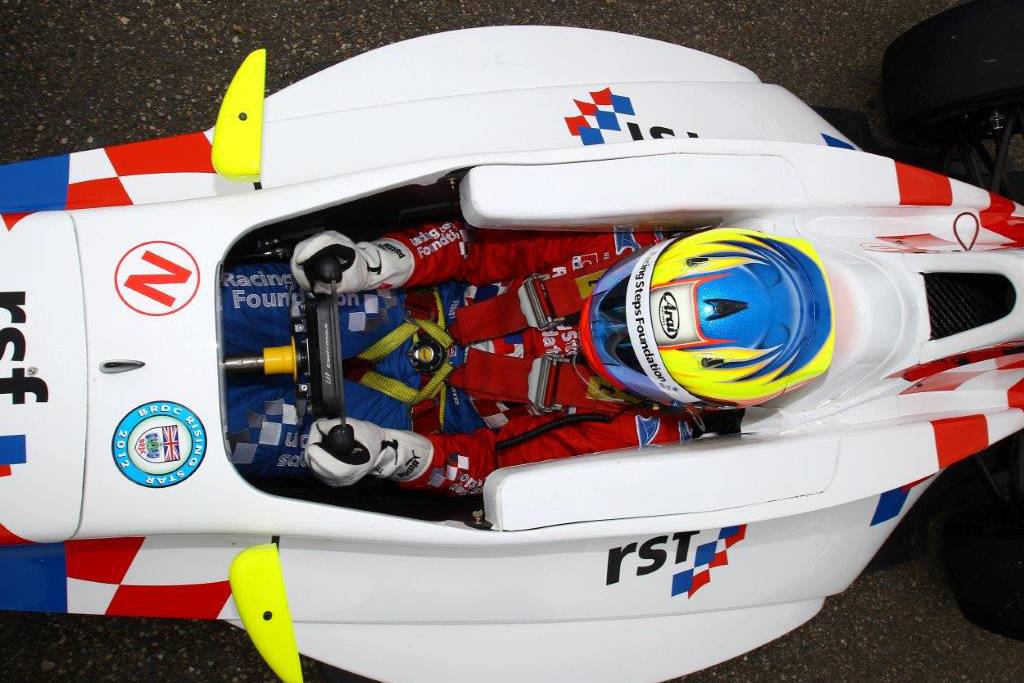 "The first design we ever did for a racing driver going into single seaters! Jake messaged me after seeing little bits and bobs of work I posted on Facebook back in 2012 when I was properly getting into it as a hobby and we started working with him from there.
"This was a twist on his normal layout he had since karting, we have worked with Jake ever since and up to the present day. His design is fundamentally the same core design, but tweaked and evolved year by year.
"It's pretty much the design that started it all really and helped initiate the customer base from there.
"Around the same time is when we first started working with George Russell – in late 2012 on his website and early 2013 on his helmets – as well as Lando in 2013 during the season while he was karting for RFM in KFJunior. We did the kart graphics, race suits and later his helmet design.
"It was also one of the first helmets to really be shown winning a proper landmark award – as Dennis won the 2013 McLaren Autosport BRDC Award with one of our designs, being the first one of ours to be showcased to that high profile alongside his Formula Renault 2.0 NEC Championship win."